Map and Traffic Information
The Fair is held in the centre of Crewkerne, Somerset.
The funfair is sited around the Town Hall and along the A30 (red), and stalls are spread around pedestrianised areas (yellow) including Falkland Square and George Lane (next to Lidl), as per the below map: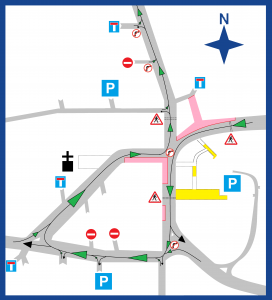 Details of car parks can be found here: https://www.southsomerset.gov.uk/environment/travel/cars-and-parking/cars-and-parking/
Traffic
Traffic restrictions will be in place from Thursday evening until Saturday evening, under the Road Traffic Regulation Act 1984. Please be aware that there are no national or county freight routes passing through Crewkerne and relevant parties have been informed of the closures.
The full Traffic Management Plan can be found here and details of diversions are available on the Somerset County Council Website. To summarise the traffic restrictions:
NO RIGHT TURN from Church Street into Market Street
NO RIGHT TURN from South Street into Market Street
NO RIGHT TURN from Market Street into Market Square
The east side of Market Square will be closed (the opposite side of the Town Hall to Oscars Wine Bar)
North Street will only run north
East Street will only run west
Ashlands Road will offer a diversion route avoiding the town centre
The parking bays on Market Street and Market Square will be closed
We thank you for your patience, and particularly compliance with the road safety measures put in place in effort to minimise the negative impact of the Fair.